Syaamil Al-Quran The Miracle 15 in 1
Alamilah Penghayatan Bacaan Al-Qur'an Secara Menyeluruh!
Offer... Hanya RM154 sahaja!!! (harga pasaran RM270)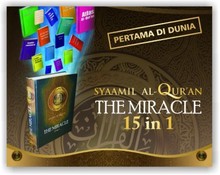 Kandungan:
1. Al-Qur'an Terjemah Per Kata
2. Penterjemahaan Bahagian Agama
3. Tajwid Menggunakan Sistem Quantum Reading Qur'an
4. Panduan Hukum Tajwid
5. VCD Tutorial Sistem Quantum Reading Qur'an
6. Tafsir Al-Muyassar
7. Asbabunnuzul
8. Doa-doa dalam Al-Qur'an
9. Mukjizat Al-Qur'an
10. Indeks Al-Qur'an
11. Atlas Al-Qur'an
12. Kisah Para Nabi dalam Al-Qur'an
13. Zikir Al-Ma'surat
14. Intisari Ayat
15. Links to Related Articles
Cara nak dapat? COD dan POS
*Bagi yg berada di luar kawasan bolehlah minta bantuan saudara/kawan yang berada di kawasan sini untuk berurusan..
*Melalui POS juga boleh diuruskan [Tambah RM10 saja] utk Semenanjung, Sabah & Sarawak..tq
Call/SMS @ 012-3657440[Mujahid]
Lokasi @ UKM/Bandar Baru Bangi/Kajang