Oil Rallies on U.S. Drilling Activity Reduction, Booming Labor Market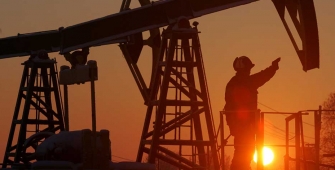 Oil markets rallied on Monday on the back of a fall in the number of U.S. rigs and as the U.S. economy continued to post solid job gains, which the industry hopes will drive increased fuel demand.
U.S. WTI crude futures stood at $62.10 per barrel, 6 cents or 0.1 percent higher. Brent crude futures stood at $65.58 per barrel, 9 cents or 0.1 percent higher from their last close.
The U.S. economy reported the biggest job growth in over one-and-a-half years in February, with non-farm payrolls surging by 313, 000 jobs in the previous month, according to the Labor Department.
In oil markets, U.S. energy firms in the previous week reduced the number of oil rigs for the first time in almost two months, with drillers reducing four rigs to 796, according to Baker Hughes energy services firm on Friday.
Despite the lower rig count, which is an early indicator of future production, activity continues to be much higher than the same period a year ago, when just 617 rigs were active and majority of analysts anticipate U.S. crude oil production to increase further.